Concrete5 Themes
Let Our Website Design Artisans Create a Concrete5 Theme for Your Business
Custom Concrete5 Theme Design Services
Pixo Web Design & Strategy is your Concrete5 custom theme design experts. Our Concrete5 theme services include:
Custom template/theme development for your Concrete5 website
Customization of a current template design
Expert design strategy consulting
Concrete5 theme installation services
Custom dynamic navigation with drop down menus
Concrete5 add-on installation & creation
PHP development
Custom templates for Concrete5 blocks
PSD to HTML to Concrete5 theme services
We also offer live one-on-one strategic design services with each website design to help increase conversions to drive new business. Have specific questions and need answers right away? Need advice or help customizing your theme or adding content to your website? Call now to speak with our Concrete5 experts to get you on your way to a successful website.
Average Theme Design & Installation Price: $375 - $950
View our other Concrete5 services

Affordable Concrete5 Marketplace Themes, Installation & Customizations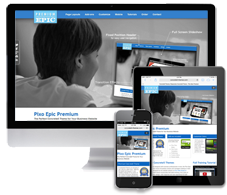 Have a Concrete5 marketplace theme you need installed or customized? Or maybe looking for a lower entry price to getting a great looking website? Pixo does theme installation and customization to existing marketplace themes at affordable prices. Check out our own Pixo Epic Premium theme for only $49! Give us a call at 720.334.PIXO (7496) or drop us a note:
"I have been thrilled with the work Pixo has done for my website. It has allowed me the ability to upload images quickly, edited them, and publish my results in a fast and easy way. Business traffic has increased as well as sales from my website. Concrete 5 is so easy to learn it is like having your own web designer there with you all along the way. I strongly recommend anyone who is looking for a website to choose Pixo and Concrete5."
alexanderlisman.com